Underhill Farms Chef Clinics
Looking for a new way to spend an evening out? Want to broaden your culinary palette? At Underhill Farms, you and a few of your f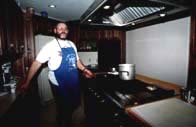 riends can become experts in fine food. Allow your host and expert chef, Lynn Kaufman, to take you step by step through a gourmet entree, side dish, and dessert as you learn new techniques you can use at home.
For those that stay the night, you'll also learn how to make a delicious breakfast entree, like blueberry french toast, or one of Lynn's famous breakfast casseroles.
Underhill Farms chef clinics are a great idea for a bridal shower, church group, or any small group that wants to learn a new skill and eat well in the process! Packages include one night's stay at the inn for groups requiring four rooms or less.
Chef Clinic Prices:
$140 per person includes:
Cooking Instruction
Appetizer, a gourmet venison entree, and a specialty dessert
A night's stay at the inn
A full breakfast
Recipe Packet
A prestigious diploma from the Underhill Farms Chef Clinic
Please note, prices are based on single occupancy, for double occupancy, just add $85 for the second guest. (In other words, two people enrolled in the clinic, but sharing a room costs only $225 instead of $280.)
To make a reservation for your small group, call (620) 345-8415 or send an email to us here.